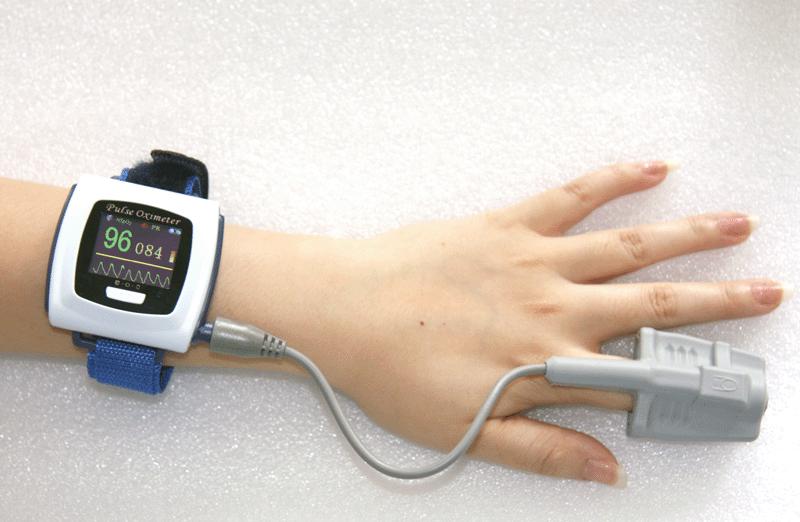 NatureSpirit® Model CMS-50F Wearable Pulse Oximeter with Universal Probe and USB Connectivity, Internal Flash Memory to store up to 24 hours' data, two directional color display, free advanced analytical software that can be used for sleep study. Optional wireless kits
Features:
· Very compact design and light weight, fit comfortably on user's wrist
· Can measure SPO2 and Pulse Rate accurately, can be used for continuous monitoring for sleep study
· 256k Color OLED display, in two directional with four levels of brightness adjustment
· SPO2, Pulse Rate, Pulse Rate waveform and bar graph display
· Easy to use setup menu
· Can set pulse sound, measurement audio alarm for SpO2 and pulse rate
· Can set year, date and clock
· Battery voltage low indication
· Low power consumption
· Internal flash memory to store up to 24 hours' data
· USB connection to up load data to PC to send to physician
· Include comprehensive display and data management software
· Optional wireless connectivity kit
Specification
· Measurement range: SPO2: 35~99% Pulse Ratio: 30~250BPM
· Resolution: 1% for SPO2, 1BPM for pulse rate
· Accuracy: ±2% (70%~99%), unspecified (<70%) for SPO2; ±2BPM or±2% (whichever is greater) for pulse rate
·
Power

supply: 3.7V Lithium rechargeable battery
Intended use
For spot and continuous check of blood oxygen saturation level at home, in sport and recreational use, such as mountain climbing, high-altitude activities and running. Not intended to replace a doctor's visit and self and medical diagnostics. This fingertip pulse oximeter is not a medical device and can not be used for medical diagnostic and treatment activities. It is sold without a prescription.
Included Accessories
· One universal ring probe
· One USB cable
· One software CD for data upload to PC and data graphic display
· One ac charger for rechargeable battery
· One storage metal tin box and hanging strip
· One user manual and warranty card
·
Optional wireless connectivity kit